Restaurant Reservation SCAM
Mon, 02/27/2017 - 13:01
--
webmaster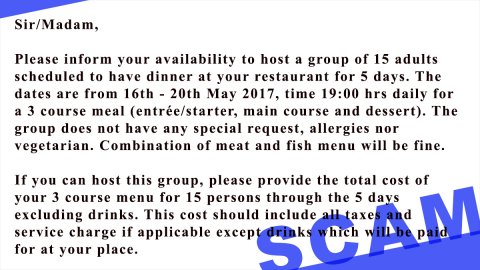 Tourism receives requests that are scams for trip planning reservations and on 2/23/2017 the County Webmaster received the request via email; intended for a restaurant.
Subject: Dinner Booking
Sir/Madam,

Please inform your availability to host a group of 15 adults scheduled to have dinner at your restaurant for 5 days. The dates are from 16th - 20th May 2017, time 19:00 hrs daily for a 3 course meal (entrée/starter, main course and dessert). The group does not have any special request, allergies nor vegetarian. Combination of meat and fish menu will be fine.

If you can host this group, please provide the total cost of your 3 course menu for 15 persons through the 5 days excluding drinks. This cost should include all taxes and service charge if applicable except drinks which will be paid for at your place.

In the event you do not have availability for the stated date, please advise next available 5-day period in April or June, 2017.

Thank you and looking forward to hearing from you soon.

Best Regards,
Donald Edwards
61 Harley Street, W1G 8QU London
United Kingdom
Tel: +447031932912
Read what could happen if you were to contact them back by reading the post Online scam against restaurant owners.
Unified collaboration to support economic growth in Cattaraugus County
Add your Business
Want to see your Cattaraugus County business on our business list for the world to see? It's FREE for your Cattaraugus County business! Get Started Here